【Large Capacity】 Large white half-transparent wanter tank can hold 61 oz water, heats up in 45 to 60 seconds and provides up to 60 minutes of continuous steam.

【Auto-Shut-off】 Automatic safety shut-off when water runs off. Thermostat fixed on the heater controls it operating in a safe range of temperature and prevents danger caused by high temperature effectively.

【High Effiency】 1300-watt for quick heating,high steam output and wide diffusion from large steam head provides quick, efficient wrinkle removal for garments, drapes and upholstery.

【Perfect Design】Height-adjustable aluminum pole for storage, white half-transparent detachable water tank for easy water capacity observation and easy-cleaning.

【Reliable and Friendly Customer Service】Always be ready to respond within a 24 hour time frame. 30-day money back guarantee, 12-month replacement warranty and lifetime support guarantee.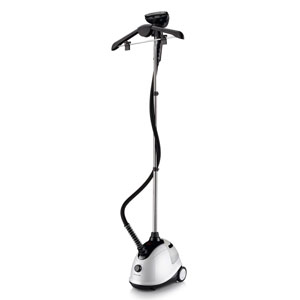 Homeleader:The best choice for your daily-life
360 Degree Rotating hanger
360ºmulti positions rotative hanger, you can easily steam the back of your garment, as you don't need to bother changing side anymore.
Easy To Store and Move
The height-adjustable aluminum pole allow for quick and easy storage. With the big wheel in the bottom,you can move the steamer anywhere in home , super convenient.
Package Included:
Garment Steamer x 1, Water Tank x 1, Spray Head x 1, Supporting Pole x 1, Hanger x 1, Spray head hook,Fabric Brush x 1, Trousers clamp,Instruction Manual x 1, Warranty Card x 1
Specification:
Heating Time: 45 seconds
Max Steam Time: 60 Minutes
Total Height: 5 ft, 3 in
Steam Hose Length: 4ft, 9in
Volts/ Watts: 120V,1300w,60Hz
Water Tank Capacity: 1.8L / 0.5 gallon
Note:
1.Not add hot water into the water tank, which can cause the deformation of the water tank.
2.Not touch heat-emitting place or steam spray head. Pour the excess water carefully avoid injury.